DISCLAIMER: THIS BLOG ONLY CAN BE VIEW USING INTERNET EXPLORER 5.0 AND ABOVE
"BI2006 - Week 2 Assignment :YOU are the new Manager for Diddy AF4. As a manager, what would you do to get Diddy to be an established singer / artist in the Malaysian Music Industry?"
...nama saya salmah binti mas'oud.orang panggil saya sally geiboo.glemer kan nama saya.ramai orang kenal saya.sebab saya chantek.kulit saya puteh gebu.sebab tu orang panggil saya salmah geiboo.orang dengki ngan saya sebab saya cantek...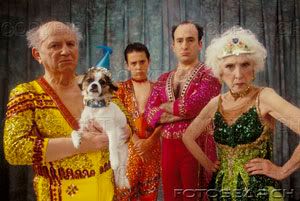 ...ko hengat ko cantek sangat ke sally??mak lagi cantek occay!!...
...dulu saya kerja jadi pengurus artis. hensem tau artis saya.nama dia diddy af4.saya ingat lagi masa tu, saya ada seorang kawan.nama dia fiebie.dia sakit. dia ada sikit mentally disturbed. dia yang kenalkan saya dengan presiden fc diddy yang dia kata pushy dan garang.memang pun...
...mungkin sebab saya cantek dah gebu kot dia amik saya jadi pengurus diddy yang hensem. diddy ni tinggi. sore dia sedap. saya suka dengar dia nyanyi lagu mimpi yang tak sudah.lagik best dari ibnor riza nyanyi...
...walaupun diddy tak menang akademi fantasia yang dia masuk, tapi saya tahu ramai orang minat dia. sore dia sedap.sedap pun tak macam sore dia. sore dia jantan sangat.mek sukkkaaa...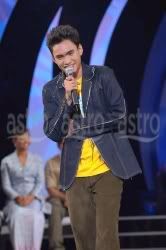 ...diddy yang hensem , meletops...
...masa saya jadi pengurus dia, memacam saya buat untuk glemerkan dia.kalu dia glemer saya pun leh tumpang sekaki glemer dia.mane tau saya lagik glemer dari dia kan kan...
...memula tu kan, saya buat sexperiment kat dia ni.eh, silap.experiment.test sore dia.nak tau range sore dia walaupun saya bukan reti pun. pastu , saya gi goda dan ngorat komposer yang meletop letop kat mesia ni soh buat lagu untuk diddy.saya pastikan album dia ni , smer lagu best. konsep untuk lagu dia mestilah sesuatu yang baru.sebab orang malaysia sekarang gila nak dengar lagu yang pelik tapi best.cam lagu drama yang ning baizura nyanyi tu.best tu lagu tu...
...dalam album tu , saya pastikan tak ada pun lagu tangkap muat.maknanya, ketelitian masa pilih lagu untuk album tu harus tinggi.kena lagi tinggi dari dia.sebab orang beli album bukan untuk dengar satu lagu je.cam artis-artis lain buat tu. satu dua lagu je malatop, yang lain, nan ado katanya...
...dalam album tu saya pastikan ada lagu untuk semua golongan.kira konsep pop komersial la.sebab saya nak tonjolkan versatality diddy nie. dia memang leh nyanyi semua jenis lagu dengan baek.bodohlah orang yang tak ngundi dia dulu.ada lagu dance, hik hok, or new groove yang mmg digilai katanya.menda tatau lagu new groove tu...
...in casual attire, not bad.tapi yang mencacatkan gambar ni adalah tangan alien yang besar itu...
...dia cam jenis lagu yang tak penah orang buat lagi.buat pembaharuanlah katanya.rojak campurkan elemen muzik supaya boleh dinikmati oleh semua lapisan masyarakat. ada unsur hik hok, dance, ballads, jazz, rnb, pop soul, smer laa.saya tak reti sangat kalo jenis lagu nie.sebab saya dulu cikgu tadika kemas...
...dari segi imej laks, memandangkan diddy ni muda hensem kacak bergaya, saya paksa diddy pakai cam ala2 chicky, hap tu det katanya. tapi still bersopan dan masih mengekalkan memachoan dan kemelayuan dia.camne tu.kalo imej abang2 ala2 anuar zain tu.walaupun dia tak lah abg2 sangat , more to kekakak kan, tp dia nyer imej tu nampak classy katanya kan.tp , saya paksa diddy ni pakai yang lebih muda lah.annuar zain tu dah kertu uols.tapi dia tetap cantek kan ...
...nilah 'abang' nuar yang berimej malatops tuw...
...selalunya, kalau ada show, tarkirs la kat mana.dinner show ke , funfair ke, kedai buku ke, shopping mall ke , saya heret je diddy ni.sebab masa ni lah nak kenalkan dan nak buktikan pada orang yang diddy ni memang meletops. saya tak pilih show.kalu duk main dinner show je, depan datuk2, datin2, tansri , puan sri segala tu, diorang tu beli ke album ??selalunya orang yang rajin beli album ori ni bebudak skolah, i means teeangers ngan adek2 je!!...
...masa atas stage tu, saya selalu pastikan diddy bukan sekadar seorang penyanyi, tetapi sebagai seorang penghibur.biar nampak powerful and wild on stage.ada attitude , cara cakap ngan peminat, ngan fanatik. biar bila orang lalu kat shopping mall tu, ala2 terpegun denagn nyanyian yang meletop dan tidak sumbangsih.diddy memang tak ada masalah suara.cuma attitude atas stage dia tak ada masa kat akademi fantasia tu. tu yang saya ubah dan latih dia...
...waalupun saya tak tahu dia ni minat ke tak berlakon, saya paksa dia berlakon.sebab tu salah satu cara nak melariskan jualan album dia. muka dia yang hensem tu , memana produser takkan menolak untuk ambil dia berlakon.atas dasar apa saya paksa dia...
...kita tengok artis yang kawin juta2 , lepas 3 thn cerai tu, suara bukan sedap sangat, tapi berlakon meletop. sekarang berapa album dia ada.laku jugak walaupun tak sesedap mana suara dia.sama jugak denagn senario, jadi badut buat lawak dalam tibi, dalam filem, buat album ada jugak orang beli.sebab orang minat.bukan sebab suka lagu diorang.kan kan kan.pandai tak saya...
... satu lagi, macam ramai orang buat la, nyanyi balik lagu lama.kalau dia nyanyi balik mimpi yang tak sudah tu, mesti meletop.sebab lagu tu macam serasi dengan dia. tenggelam ibnor riza katanya.tidak salah bagi saya nyanyikan balik lagu lama sebab itu akan mengembalikan semula kepopularitian lagu tu dengan masa yang sama meanikkan nama diddy sebagai penyanyi...
...kontek ngan orang pun saya tak lupa.terutama dengan orang media.mulut diorang ni memang dotdotdot.tapi kalu tak dak diorang sapa lah artis kan kan.orang2 yang mulut hazab macam orang rambut paddle pop ni lah yang sedikit sebanyak membantu denagn buat cerita betul dan yang bukan bukan.saya kena jaga kontek ngan diorang ni.kalo diorang banned artis saya, matilahmak!!!...
...korang caya tak cerita nenek nie??tak tipu tau...
... itulah saja cerita saya kali ini.saya dah penat ni.nak tido japs.maklumlah dah tua.saya doakan diddy berjaya dalam dunia realiti industri hiburan kita yang kehausan penyanyi lelaki yang boleh menggegarkan dunia.bukan gegar denag ncerita putus tunang ke, keluar dating mancing ngan orang lain ke.tapi gegar sebab kualiti dan kemampuan dia 'hidup' dalam industri hiburan malaysia...
...nenek beradu dulu yek.jangan lupa undi ArcHmaL untuk Bloggers Idol 2006...
p/s: best tak muntah selepas baca entry propah tak hengat neh???
...semua watak dan nama di atas tidak ada kena mengena dengan yang hidup atau pun yang telah mati.andaikata , ada pihak yang tersentap , itu mungkin hanyalan suratan atau pun kebetulan taupun, memang aku nak carut korang.matilahmak!!!...